Here at Georgia Boot, we make durable, long-lasting boots designed to handle different workplace hazards and everyday wear and tear. But, to get the most life out of your boots it is still important to perform routine maintenance on them. This guide will help you keep your Georgia Boots looking nice and clean.
How Often Should You Clean Your Boots?
When you start to notice your boots getting dirty after months of daily wear or a day working outdoors, it is a good idea to properly clean them. Even the high-quality, durable leather we use at Georgia Boot like our SPR™ Leather can have its life extended by routine maintenance. In this guide, we will walk you through each step of the process. From gathering the supplies you will need, to cleaning the boots, and all the way to putting them back on your feet.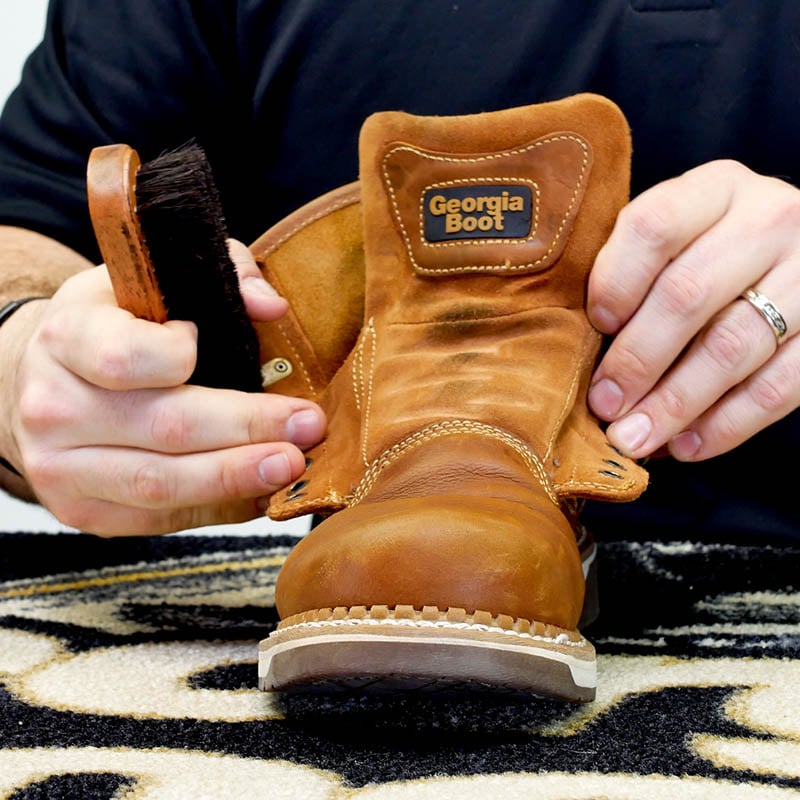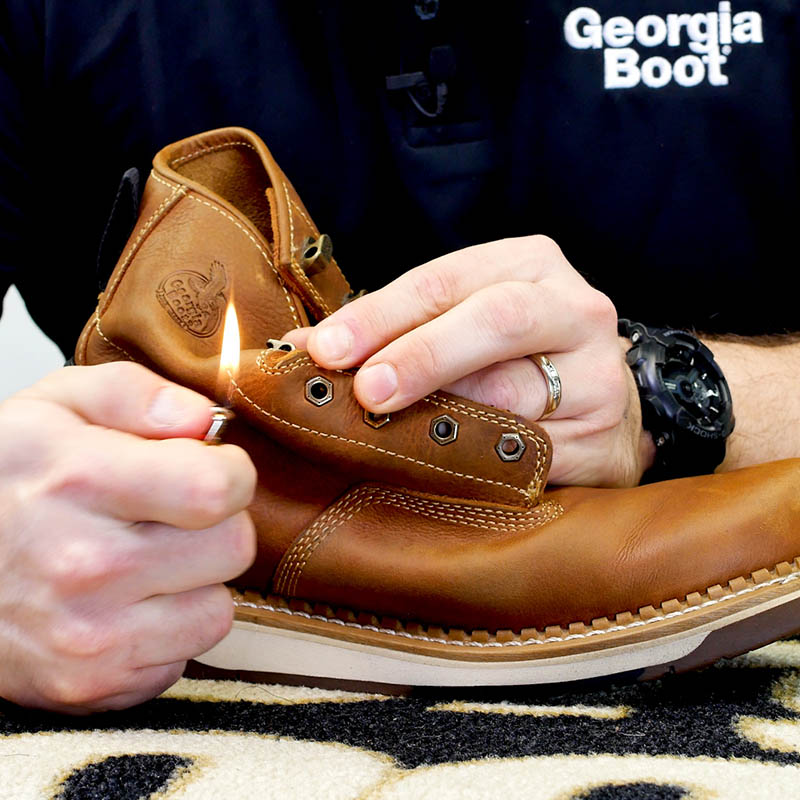 What You Need to Clean Leather Boots:
Cleaning a pair of leather boots takes some time and effort, but the results make it worth it. To clean your boots there are a few things that you will definitely need every time. Depending on what condition they are in, you may need to gather some extra items to get your boots looking like new:
Shoe brush or a large soft-bristled brush.
Small soft-bristled brush, like an old toothbrush
A lighter
A soft cotton rag
A leather conditioner or oil of your choice
(Optional) New pair of insoles if yours need replacing
(Optional) New pair of laces, if yours are wearing out
(Optional) A light detergent or soap to wash dirty laces
Once you have everything that you need from this list gathered, you're ready to get started.
How to Clean Leather Boots:
1. Remove the laces and insoles from the boots.
Removing the insoles and laces from your boots will allow you to easily handle them when cleaning. It will also allow you to clean the tongue of the boot on laced styles and will let you determine if you need to clean or replace the insoles and laces. If the laces do need cleaning, use a mild detergent or soap with lukewarm water and wash them with your hands. Rinse them out and leave them out to dry. You can also wash dirty insoles with lukewarm water and mild soap. If odor is an issue, you can rub dryer sheets or baking soda on the outside of the insoles to remove the smell. Make sure to rinse clean and leave out to dry with the laces.
2. Use the shoe brush to lightly brush away any loose dirt or dust from the boots.
With the clean shoe brush or other soft-bristled brush you have chosen, gently brush off any visible dirt or debris from the outside of your boots. When doing this work your way from the top down. This step can on its own to get your boots looking fresh between deeper cleanings. If you are having a particularly hard time removing dried-on dirt, use a damp cloth to wipe it away as gently as possible. While we build many of our leather boots to handle water, you will get the longest life out of any leather footwear by avoiding getting them soaked whenever possible.
3. Use the small brush or toothbrush to clean around any stitches or harder-to-reach spots on the boots.
Be cautious when cleaning dirt or debris from any stitching on your boots. Brush as lightly as you can and be careful not to damage the fibers in the stitches. Many of our boots feature a Goodyear Welt. This construction method is very durable, and the stitches on the outside of the welt hold the sole onto the boot. Gently brush away any dirt and debris from the stitches with the small, soft-bristled brush you have chosen.
4. If there are any loose stitches on the boots, use a lighter to rebind them to the rest of the stitching.
It is completely normal for some stitches to get a little loose and frayed on the outside of your boots after wear and tear. To get rid of these loose strings and bind the fibers to the rest of the stitching, you can use a standard lighter. Take the lit lighter and carefully move the flame towards the loose fibers. Be quick and cautious with this step. You want to let the flame go out or move the lighter away from the boot as soon as you see the stitching begin to burn down and shrink. Carefully use your fingers to rub the loose fibers back to the rest of the stitching so they can bind back to the boot.
5. Clean any dirt from the sole of the boots.
To clean the rubber outsole of your boots, you can use a brush or wet rag if needed to get any dried dirt or debris removed from the sole. Avoid using anything too abrasive so you don't damage the rubber outsoles. If you need to use water, try not to get the leather on your boots soaking wet. Also, make sure to dry any water off of the rubber with a dry rag when finished.
6. Apply the leather conditioner of your choice to the upper of the boots.
If you are going to apply an oil or conditioner to the boots, make sure the leather is completely dry first. Once you are sure they are dry, apply the oil or leather conditioner of your choice to the boots. Follow the directions on the packaging of whatever product you use. Most products made for conditioning leather boots will call for a brush or soft rag to apply the product. Before you begin, keep in mind that most leather conditioning products will affect the color of the boot. If this is of concern to you, test out a small amount of the product on a part of the boot that will be out of sight when you wear them. This will let you determine if the change is acceptable to you.
7. Buff out the leather with a clean shoe brush.
Let the oil or conditioning product that you applied dry, and follow any other instructions on the packaging. Once that is done, use a clean shoe brush to buff out the leather and make sure it has a nice clean, smooth look.
8. Lace up the boots and reinsert the insoles.
After you have your boots cleaned, conditioned, and buffed, you can reinsert the insoles or replace them with a new pair. On laced boots, make sure that the laces are completely dry if you had to clean them. Then re-lace your boots the the clean or new pair of laces.
How to Clean Rubber Boots:
While the majority of the boots we make at Georgia Boot are leather, we do offer a small selection of rubber boots. We also offer the Muddog and Marshland collections which feature boots with a rubber shell around the bottom. Cleaning rubber is pretty simple. You can use a wet rag to wipe off any dirt and debris, and the sole of the boot can also be cleaned with a brush and water. However, there are a few things to keep in mind when cleaning rubber:
Make sure to remove the insole of rubber boots and allow them to dry out before placing them back in the boots.
On Muddog styles, be careful around the stitching of the boots. Use a soft-bristled small brush to clean them like on our leather boots.
There are rubber conditioning products on the market for rubber boots. If you choose to use these, be sure to follow the directions when applying and avoid getting it on the leather of Muddog styles.
Get the Most Life Out of Your Boots
Making sure that your boots are properly cleaned and cared for will help you get more life out of your favorite pair. All our boots are covered by a one-year warranty against any sort of defects and manufacturing issues and all waterproofing is covered under warranty for at least 6 months. However, regular cleaning and maintenance of your boots can keep them comfortably on your feet for far longer. The large selection of boots we offer with a Goodyear Welt can also be resoled, potentially adding years to the life of the boots. If you are looking for a pair of long-lasting boots, Georgia Boot has you covered!